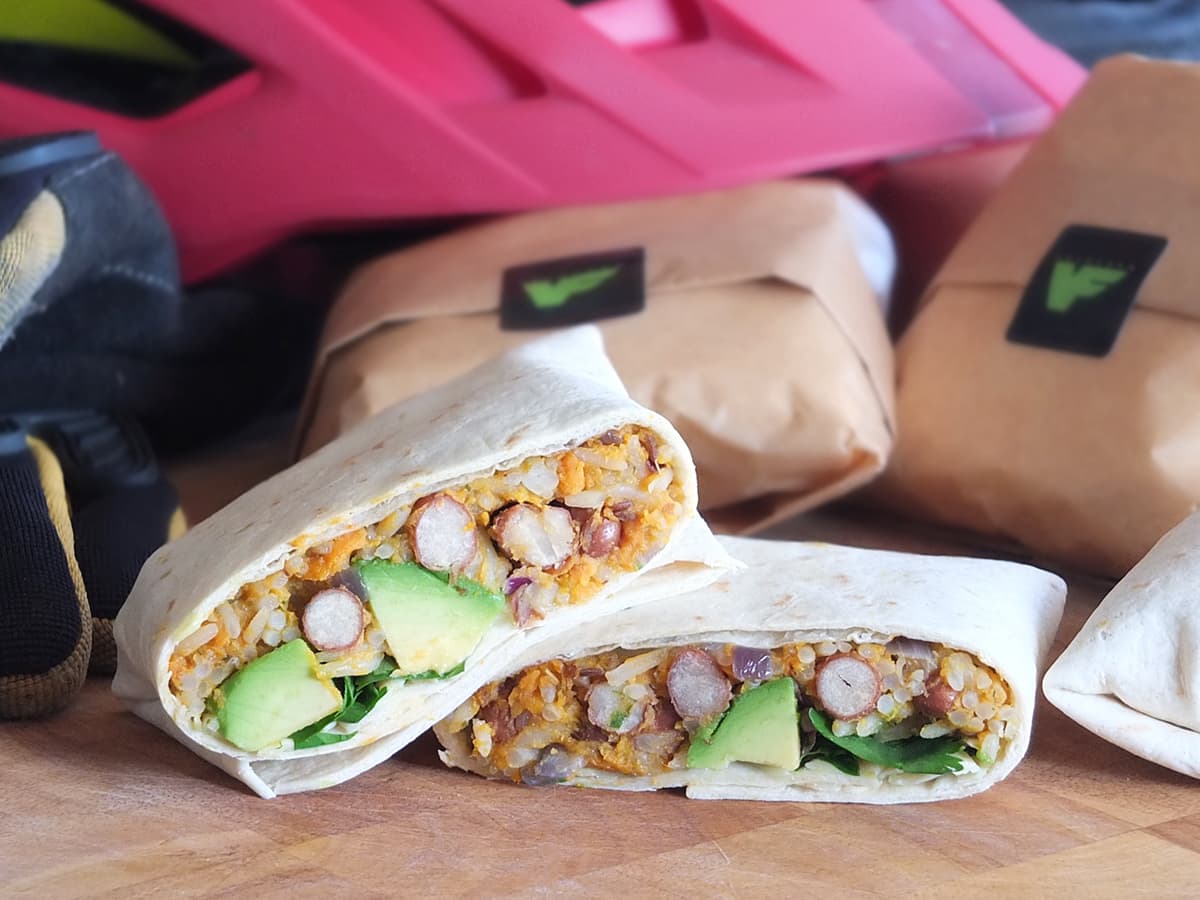 Eating while on the ride is important, so we came up with a recipe that is not only tasty, but also packed with the right level of nutrients and a practical answer to the squashed jam sandwich at the bottom of your bag.
The 3 key ingredients in this recipe for maximum fuelling are: sweet potato, borlotti beans and tortilla wraps.
Ingredients
1 medium sweet potato
1 tbsp butter
1 red onion, finely chopped
1 fresh red chilli, finely chopped
0.5 thumb-size piece of fresh ginger root finely chopped
2 garlic cloves, crushed
1/2 tsp whole cumin seeds
1/2 tsp dried oregano
400 grams tinned borlotti beans
250 grams coriander and lime rice
1 medium avocado chopped
100 grams mature cheddar cheese, grated
1 handful fresh coriander leaves
1 lime, juice only
6 tortilla wraps
Instructions
Peel the sweet potato and cut it into 2-inch pieces. Roast, without oil, in a preheated 180 C/ 350 F/ gas mark 4 oven for 45 minutes.
Once cool to touch, slice into smaller pieces.
Heat butter in a non-stick frying pan. Gently saute the red onion and sweet potato until the onion has softened and the potato has broken down. Approximately 6 minutes.
Add the dried oregano and cumin seeds.
Add the garlic, ginger and chillies.
Stir in the drained, rinsed borlotti beans. Cook for 3 minutes to heat.
Add the coriander and lime rice, and heat through for another 3 minutes.
Lay out a warmed tortilla wrap and top with 1/6th of the borlotti bean/rice mixture.
Top with chopped avocado, grated cheddar cheese and fresh coriander leaves.
Squeeze over the juice of 1/6th of a lime.
Fold the burrito and wrap in paper.
Made this recipe? Snap a photo and share it on Instagram tagging @veloform_sh and #veloformfood – we'd love to hear from you!